DUVIS - Visualizing Project Meta-data (Research activity from the DWR UISCE Project)
- (01/2018 - 06/2023, ERDF - Ireland Wales Co-operation programme 2014-2020)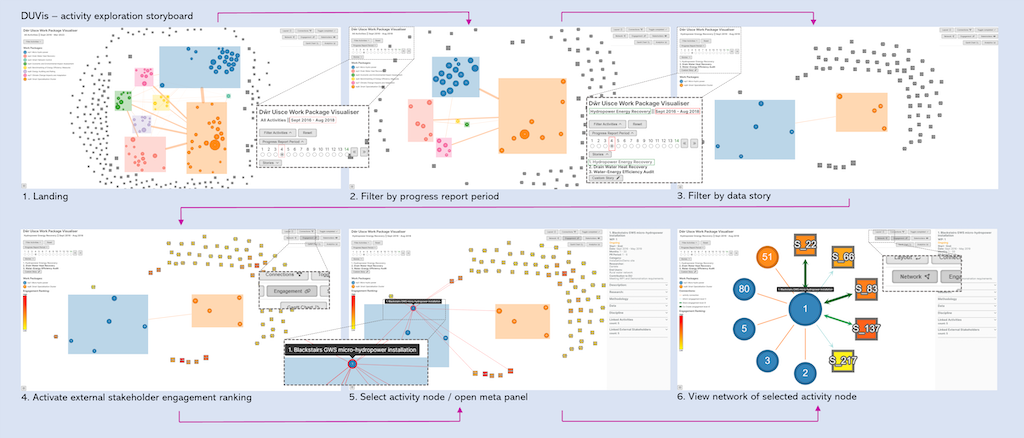 Within the activities of Dŵr Uisce - Distributing our Water Resources: Utilising Integrated, Smart and low-Carbon Energy project, on which we collaborated with the School of Natural Sciences, we developed a tool for visualizing transdiciplinary research (TDR) project meta-data, such as workpackages, activities, stakeholder collaborations and deliverables. TDR is being increasingly used to address broad challenges through project-based research. Such project structures utilize a range of disciplinary research perspectives as well as input from external stakeholders, potentially leading to greater societal impacts and more holistic outputs.
With this work we introduce DUVis, an interactive visual data exploration tool developed primarily to map internal and external collaboration within TDR projects. As well as using a node-link diagram to map collaboration, DUVis provides a number of secondary visualizations and additional features to facilitate data exploration and story telling. We present a user-experience evaluation of the work, extracting insights on how DUVis and similar tools, can provide a unique perspective for project managers of TDR projects, and how they are perceived from non-visualization-expert project participants.
The current public version of our tool can be accessed here.
Dŵr Uisce is part funded by the European Regional Development Fund (ERDF) through the Ireland Wales Co-operation programme 2014-2020.
Related Publications
R. Bellini, P. Coughlan, A. Bello-Dambatta, A. Rigby, P. D. Ritsos, and A. Mc Nabola, "An interactive visualisation tool to manage metadata in engaged research projects, track progress, map stakeholders, and evaluate output, outcomes and impacts," in EGU General Assembly, Vienna, Austria, 2023. This paper presents the research management experience of a multi-disciplinary team and their reflections on how they responded to these challenges and implemented working solutions. As a team from five disciplines, we reflect on this shared experience gained over a 6.5 year-long EU-funded project. Stimulated by the project complexity, we came to recognise that how we managed the data provided us with an opportunity to collaborate meaningfully and to link in novel ways the contributions of research activities to the outcomes and impacts of the project. In brief, we devised a new research data management approach through which we collated and visualised the data so as to facilitate deeper exploration of the interactions among the researchers, tasks and deliverables.
[Abstract] [Details] [PDF] [doi:10.5194/egusphere-egu23-2630]